Sheet Metal Fabricators
We are a experienced sheet metal fabricator dedicated to helping roofing contractors in South Florida.
Metal Fabrication
We are a fully licensed and insured sheet metal fabricator servicing customers in South Florida.
South Florida
With our state-of-the-art sheet metal fabrication equipment, we can manufacture the products you need fast.
Crafting Excellence, Shaping Possibilities.
We provide high-quality metal components and standing seam metal roof panels for roofing contractors.
About Company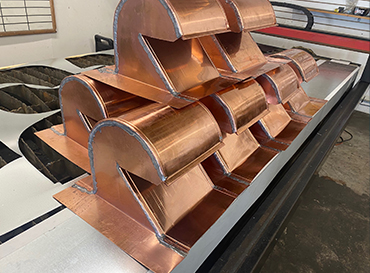 Metal Fabricator Oakland Park
Custom Sheet Metal Fabricators Specializing in Roofing Components.
CSMF delivers high-quality, precision sheet metal fabrication for roofing projects of any size in Florida. We are a fully licensed and insured sheet metal fabrication company specializing in custom metal fabrication services for commercial and residential roofing companies and general contractors. We are the go-to fabrication shop for convenient and on-demand solutions for sheet metal products and supplies needed specifically for roofing and construction projects.
Sheet Metal Fabricator South Florida
Services
High-Quality Metal Components for the Roofing Industry
Products
Testimonials
Davie, Florida
I had a job that ran short of Flashing and drip edge and we were up against a time crunch. It was a Friday afternoon and I couldn't get any shops to make me the material until after the weekend. I called Ryan at CSMF and he understood the urgency of my situation and went the extra mile to have what I needed ready for pickup at 7 am on Saturday morning. From here on out, CSMF is the only company I use for my roofing company when it comes to metal parts!
Miami, Florida
Mike and Jimmy sat with me to customer order an entire metal roof system. They provided me samples of different colors as well as well as the striations they offer so that I could inform my customer. They were so knowledgeable which I appreciated. I was able to educate my customer and help them make the right decision. Once the system was ordered, the turn-around time was very fast. Only a few days later my order was complete, neatly packaged, labeled, and ready to go. Top-notch organization from end to end. Highly Recommend.
Broward County, Florida
I run a successful, large scale roofing company with a satellite office in South Florida. We do a lot of commercial projects. When it comes to Commercial roofs, quality and consistency are what matter most. CSMF consistently delivers quality products in a timely fashion. I have yet to see anyone in the business fabricate at the level of craftsmanship that CSMF delivers.
Do you have questions about how CSM Fabricators can help your roofing company with custom sheet metal fabrication? Please fill out the form and we'll get in touch shortly.
Note: Your details are kept strictly confidential as per our Company Privacy Policy.